---

Made from 6061-T6 Aluminum or 7075-T6 and CNC machined.
Cam Timing Adjustable 10 Degree.
Improve Engine Response.
Instant Torque Gain.
Outer gear teeth have been manufactured and coated with hard anodizing.
Increase horsepower and torque without any cam changes.
True laser-etched markings on the leading edge of the gear allow for quick, accurate adjustment.
Lightweight design and anodized finished for years of performance and durability.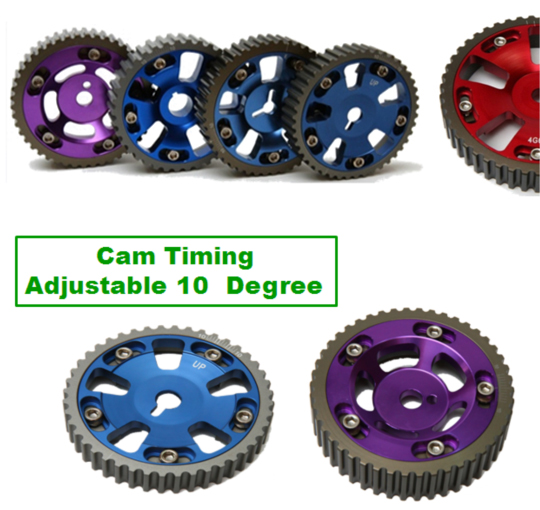 Application
PCD
Part Number
Daihatsu
Move L200
PK01
PK02
TYT1J
TYT3S
Honda
Honda P6001
B16A
Honda P6002
B16B
Accord K5 / K7 (Single)
H22A
Accord K5 / K7 (Twin)
H22B
Mitsubishi
Mitsubishi
LANCER
EVO
Toyota
Toyota
4AGZ
Peugeot
2006
PMG2006
Nissan
Nissan
R32 / R33 / R34
S13/S14/S15
Proton
PMG2006
PMG2006
Saga
PW1.5
Wira
PW1.6
Wira
PW1.8
Mazda
Mazda
MA1.8
Hyundai
Hyund
HY1.6
Suzuki
Twin F6A
SJ29
Jimny single
SJ23